About Secure Systems
To be the best security and alarm company we can be, we keep up with security trends and technology. Whether it's a full alarm system or updating an alarm to include remote access, we want to make sure you invest wisely. We carefully select products and vendors, and regularly attend trade shows and training seminars. As a result, we're able to provide our customers with top-rated and highly reliable products and services.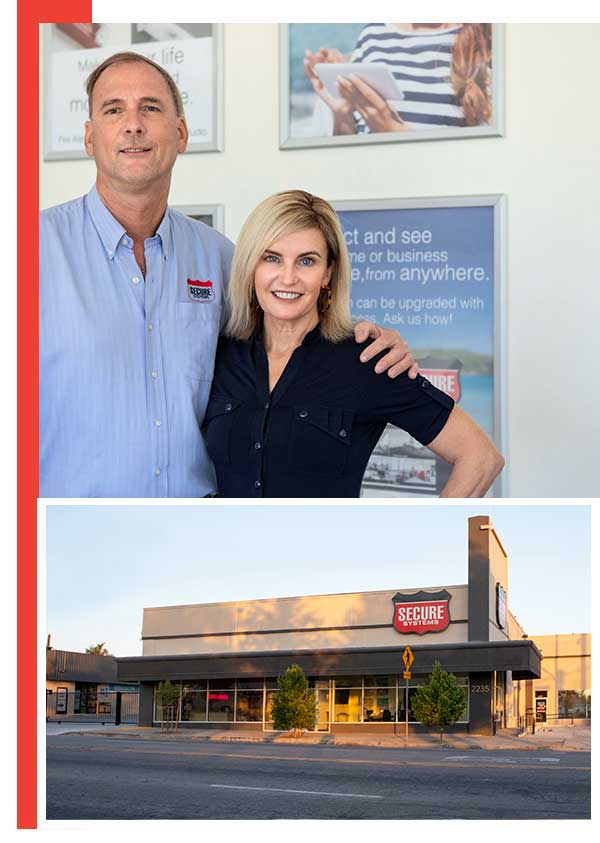 The owners of Secure Systems are Bruce and Molly Busacca.  Bruce  founded the Bakersfield local alarm company  in 1980 after graduating from Bakersfield High School. Always passionate about electronics, he discovered the newly booming world of computers and alarm systems. Along with his wife Molly they created a company that focused on helping people protect their homes, families and businesses. They realized that each customer had individual needs for an alarm system, camera system or access control. But they all needed products that worked and to be able to communicate easily with a local company that cared about providing great service. Today, SECURE SYSTEMS, at 2235 H Street, installs and services residential and commercial security systems, camera systems, commercial fire alarm systems, home automation and central vacuums.
Community and service oriented

Molly and Bruce Busacca also recognize the importance of giving back to the community that has supported them in their local alarm company business.  From the start they have been involved in giving back. Charitable causes have included Couples Against Cancer, Bakersfield Angels, The Mission, CSUB Athletics, Alliance Against Family Violence, American Heart Association, Kern County Tennis Association, Rosedale Union School District Parent Group, Kern High School District First In Class, Kern County Fair Livestock Program, and Mercy Hospital.

In 2012 their children started the first affiliate club of DreamCatchers in Bakersfield. This charity is focused on granting final wishes for elderly or terminally ill adults.  Although  they have now graduated from college and working, the charity lives on throughout six Bakersfield chapters that were started at other high school campuses and dozens of chapters across the United States.
Subscribe to Life Safety Updates for Bakersfield & Kern County
Subscribe today and get our email newsletter with life safety tips, local alerts, and special promotions for Bakersfield and Kern County.
Who We Are
Company Profile
Want to learn more about Secure Systems? It's simple, really. We are a Bakersfield security and alarm company, and we're committed to being a leader in security systems, fire alarms, custom audio, and central vacuums. We strive to provide high-quality equipment coupled with excellent service and installation practices. Our products and services are geared toward your safety. We aim to provide the best customer service and safety in Bakersfield and Central California.
Secure Systems vs. The Competition
Here are just a few reasons why we are the best security alarm company in Bakersfield:
Locally owned and operated
Custom systems to meet your exact needs
Trained and screened installers and customer service representatives
Licensed and insured security and alarm company
Over 40 years of industry experience